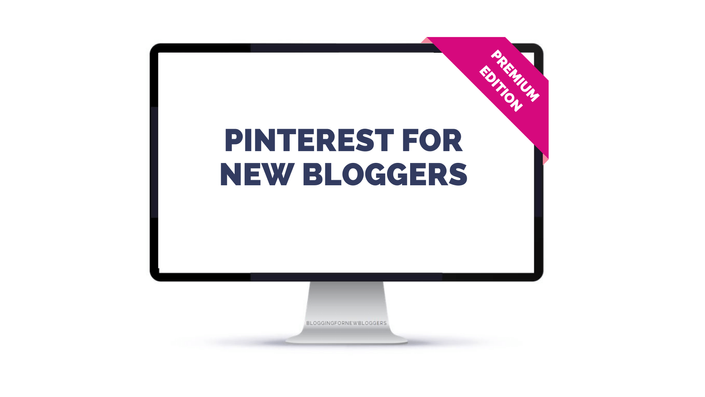 Pinterest for New Bloggers (Premium Edition)
How to Start with Pinterest the Right Way
Step-by-step instructions to create the best Pinterest profile.

I will show you how to make Pinterest work for your blog.
If you are a new blogger and you have heard that Pinterest is the best way to get traffic to your blog but you have no idea of what to do
If you have a Pinterest account but it is not bringing the traffic that everyone is talking about
If you have an idea of what to do but don't know how to do it practically
Don't despair!
This course was created just for you!

If you struggle to get blog traffic, the easy way to jump-start your page views is definitely Pinterest.
I guess if you are here you probably already know this, but the problem is that you don't know what to do next.
I hear you! I have been there myself, with lots of ideas but never having a clear blueprint that shows you what to actually do.
Winning at Pinterest is not easy but it is definitely worth it! After lots of trials and errors, I am here to show you how to create the base for perfect Pinterest marketing.
To get the best from Pinterest, pinning random content is not enough. I know it because I tried it!
When my sister Lucrezia asked me to start a blog with her I was thrilled. Since I was Pinterest addicted in real life I immediately offered to manage Tinylovebug's Pinterest account… I thought "easy task: pinning a couple of pins every now and then."
Oh my! I couldn't have been more wrong!
I started researching about Pinterest marketing and, guys, there is so much to learn.
So, if Pinterest seems so confusing and overwhelming to you, I hear you, I was in the same situation not so long ago.
Believe me, lots of new bloggers are in the very same situation as you.
I receive so many questions about Pinterest both via emails and in our Facebook group that I couldn't answer all of them one by one.
So, I decided to create this free course to help new bloggers make Pinterest marketing easy by following a clear and concise step-by-step guide.
Think how easy it will be if all you to have to do is follow a guide that shows you what to do to make your Pinterest profile ready for business.
You can stop looking around for answers because all your answers are in this one place.
No more information overload!


This course gives you an easy to follow step-by-step guide on how to create your Pinterest profile and also getting yourself ready for Pinterest marketing.
Through this course, you will learn how Pinterest works and how to get the best from it.
This course walks you through all the technicality in an easy way showing you every process step-by-step.
This course shows you what the important things are to focus on.

If you want to start using Pinterest the right way and without any stress or overwhelm then this is the course for you.
If you know the theory but are struggling with the practice then this step-by-step guide will walk you through everything.
If you know Pinterest can do wonders for your blog but you really don't know where to start then this course is the answer to all your questions.
If you tried and failed on Pinterest then this course will show you how to create the perfect Pinterest profile and make it work.

- Why Pinterest can help your blog grow.

- Why is so important to get a business account and how to get one

- How to make Pinterest trust you by verifying your website. Also what rich pins are and how to get them

- Why Pinterest SEO is so important. How to find the right keywords and where to use them

- What kind of boards you need to create and how to do so

- How to create pins that convert

- How to make your website Pinterest friendly

- Everything you need to know about Pinterest group boards

- How to save time and boost your traffic with a scheduler

- How to get followers on Pinterest
This course is not open for enrollment.
Your Instructor

Hi, I'm Marina and would love to walk you through all the steps required to get started with Pinterest the right way.
I manage Tinylovebug's Pinterest account. When I do something, I want to know everything related to it.
So, I have researched and studied everything you need to know about Pinterest marketing.
I have grown my account from zero and at this stage, Pinterest is one of the first sources of traffic for my blog.
And the best part is, by using Pinterest search engine capabilities, I'm able to drive quality organic traffic to my blog. Users who truly engage with my content.
To be able to get results with Pinterest, creating your profile the right way is paramount.
If you follow my step-by-step guide, you are set for success!
GET STARTED WITH PINTEREST THE RIGHT WAY!
Enroll now and learn how to use Pinterest to grow your blog.
11 modules jam-packed with actionable tips and action steps to figure out how Pinterest really works and effectively use it to boost your traffic.
Create your Pinterest profile the right way. Enroll now.
Course Curriculum
Introduction to the Course
Available in days
days after you enroll
Module 1: Getting Started
Available in days
days after you enroll
Module 2: Get a Business Account
Available in days
days after you enroll
This course is not open for enrollment.